1.What is SOLAR CAM(camera) ?
It is a standalone camera, powered by a solar panel, which can send pictures automatically by emails to a website by using Wifi or GSM network, in 2G,3G or 4G.
2. How does it work?
A radio module with a camera, under Android Os system works standalone.
A separate board controls the picture sequence and the order to send email to the website. The control board is powered by a Lithium Polymer battery which is managing an Android phone (ALCATEL):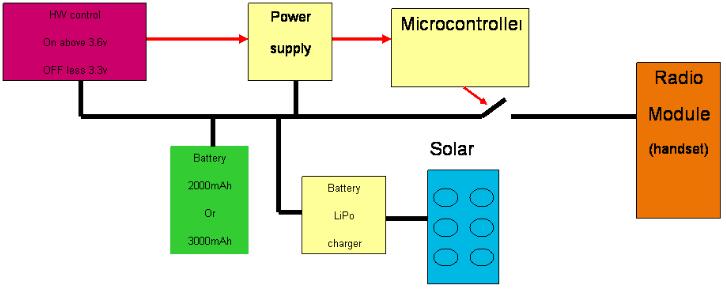 After a hardware modification, the handset can start with the power which is connected by the battery connector. This is how the control board manages the handset.
When the handset starts, it will look for a network, 2G, 3G or Wifi. Then the first action is to read the time and date with the NTP function (without good time and date, email sending cannot work in secure mode).The picture is sent by email and FTP with a very good APK called mobilewebcam. After a fixed period of time, defined by the user on the control board, the handset switches off, waiting for the next timer.
3. Specifications:
Regularly sending picture by email and / or to a website, the picture is high quality with a sensor of 2Mpx or 3Mpx. To limit the size of the file, the definition of the picture is limited to 1360*1024, with compression rate 85% or 50% depends on Wifi or GSM network choice. Fully standalone box with a solar panel and internal battery, the enclosure is fully weather proof. The SolarCam can connect under user definition to Wifi or with a Sim Card of 2G or 3G network. If you use the GSM network, the SolarCam can be put anywhere you want. By detecting the day and night, it can choose to take/upload the picture or not. There is NO downlink information. This means that when the solarCam is setup, it is not possible to change it without re-open the box and re-setup the command board.
if you use Sim card by GSM network, there are 2 function modes:
1) The radio module is power on when needs to send a picture
2) The radio module is fully time connected to the network. It can receive some command by SMS to take picture and upload it. This mode needs a bigger solar panel and larger battery
With the picture you received, there is the date, time and also the temperature ,battery level %
There is another option: an alarm based on a PIR (body heat infra red detection). This one is under improvement.
4. Box and inside:
The box used is a special IP67 box with transparent cover. To avoid complex mechanical structure, a customized solar panel was developed which cover the whole surface and can give 180mA or 200mA in alarm version.
Inside the box, there is a solar panel, handset, control board and lithium battery.